Term Two Work and Information
Over the next few weeks we will have a number of things happening. We recommend that you keep an eye on you children's reading folders as all permission notes will be sent home and put in there. Below is a list of the upcoming events over the next month;
Thursday 3rd and Friday 4th May: The Marimba Experience

Sunday 6th we are running a BBQ at Castlemaine Farmers Market

Monday 7th - Thursday 10th, School Book Fair

Thursday 10th and Friday 11th, School Mothers Day Stall

Friday 18th Mt Alexander Shire Tabloid Sports day at Castlemaine Secondary Collage

Wednesday 23rd National Simultaneous Story time and Star Gazing

Thursday 24th Open Classroom for Education Week from 9am - 11am.

Friday 25th Wesley Collage performing a concert, 9.30-10.40.

Tuesday 29th FoRT Performance in Bendigo.
While it is a very busy upcoming month if you have any concern please come and see Fiona or Keenan.
Coliban Water Heros
On Tuesday 17th April we had Coliban Water come in and speak to the students about water. They discussed where it comes from, how it is formed and what we can all do to save it. Below are some photos of the students in the session.
On Wednesday 28th March from 2.15-3.15pm we are looking to do an easter craft activity with all of the Prep One students. Where we need your help is with hands on deck. We are after as many people as possible to come down and help with this activity. If you are able to come down and help out please see the below sheet on Fiona and Keenan's classroom door where you can come and put your name.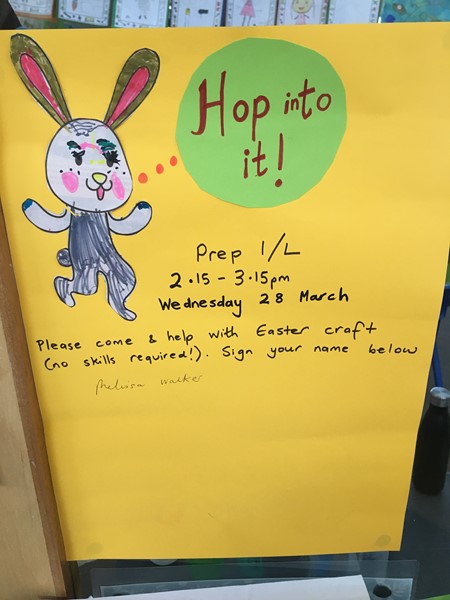 On Monday 26th March at 2.30pm we will be having an Easter hat parade in oakview. Feel free to come along and check out some of the amazing designs. Here is a sneak peak of what will be shown off.....
Have a look at some of the students enjoying our gymnastics program.
Now that we are well into the first term here are a few more photos of the grade one students completing a STEM (Science, Technology, Engineering, Maths) challenge from last week.
The students were set the challenge to build a bridge at least 30cm long and that could hold the weight of a pencil container (about 500g).
Have a look at these future engineers in action and their solutions;
As the term continues to go along we have received a number of questions about home reading and how best to do it. Below is a little clip with a few tips on how you can do your reader at home with your children. If you do have any further questions about this please feel free to come and ask Keenan or Fiona for more advise.
Welcome to 2018!
As we are so proud of what the preps and grade one's of Winters Flat get up to thought the week, we thought we would share it with you all and update this page on a regular basis by publishing some photos of the students and their work.
We will also endeavour to keep any letters sent home on this page so you are able to access them, should they get lost on the journey from the class room to home. Here is the Welcome letter that was sent home in the first week as well as the Prep Interview Form.
To get things started, have a look at some of the amazing work from the first day of the school year. We had all of the students do their own self portrait!